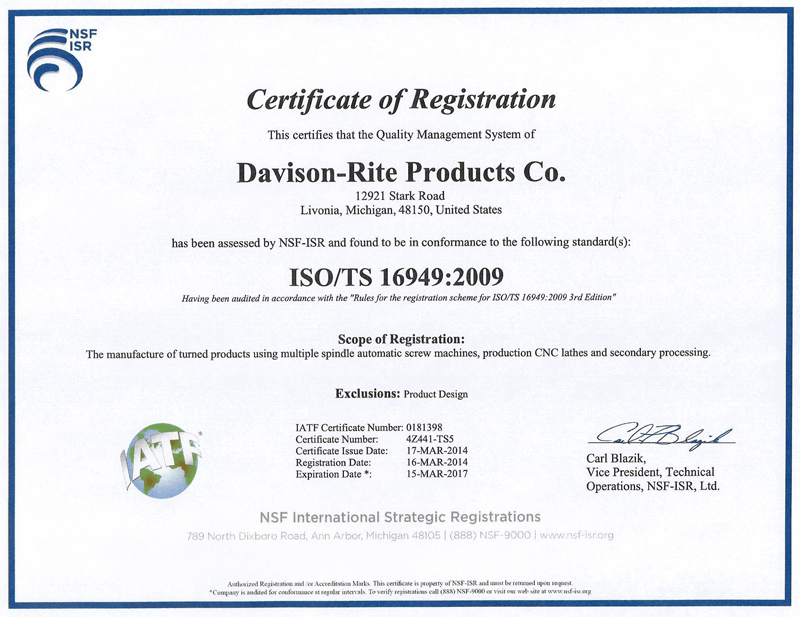 Davison-Rite Products Company is ISO/TS 16949:2009Certified

ISO/TS 16949:2009Certified, at Davison-Rite, it's our mandate to our customers that we uphold our facility to the highest of industry standards utilizing the latest technologies. Strict adherence to customer specifications for pre-production, process control and on-time delivery is implicit. We continuously strive to exceed customer needs and expectations.

Davison-Rite Products Company Quality Policy

Davison-Rite is dedicated to providing quality products, on-time, and at a competitive cost. The parts that we produce conform precisely to your specifications. And to make sure that they do, we maintain a strict quality assurance program utilizing statistical process control. To accomplish these objectives, Davison-Rite is dedicated to the following objectives:
Customer satisfaction for all clients, served on a global basis

Statistical Process Control (SPC) and Statistical Process Control techniques

Defect prevention quality system

Continuous improvement on levels within our organization

Employee involvement with total quality insurance process
Precision

The strength of Davison-Rite is our ability to achieve maximum precision as a direct result from our detail-orientated quality control team. Our operators also help achieve this through the use of Statistical Process Control (SPC) and a philosophy of continuous improvement; we strive for perfection. Our quality department and inspection procedures are tedious and second-to-none. Our Bar Capacity ranges from 1/4" to 3 1/2". Along with our engineering team, it's our promise to our customers that we deliver a quality, on-time product.

What sets us apart from our competition, however, is our people -- every Davison-Rite employee from top to bottom is trained to produce a quality, on-time product; every employee is ISO/TS 16949:2009 trained. Additionally our ability to handle the tightest of tolerances is unmatched. The tougher the job, the better off you are with Davison-Rite. In need of a precise product? We have your answer. We excel when dealing with tight tolerances and tough metals. The jobs others don't like to handle are the ones we excel in.
With 2 10-hour shifts working for you nearly around the clock, we promise to continually uphold ISO/TS 16949:2009 standards. Our experienced, cost-conscious engineering team members are always ready to meet our customers at their facilities. Our only acceptable goal -- and outcome -- is perfection. This is our promise to you.